Bedreiginsniveau
:

9
Type:
Kwaadaardige Anti-Spyware
Vaak infectie symptomen:
Verbind naar het Internet zonder toestemming
Laat commerciële advertenties zien
Trage internetverbinding
Irritante pop-ups
Trage Computer
Andere mutaties bekend als:
Besmettingsvideo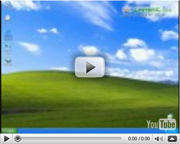 Anti-Virus Number-1
Anti-Virus Number-1, ook bekend als Anti-VirusNumber-1, Anti-VirusNumber1, Anti-Virus Number1, is nieuwe namaak anti-spyware software die is gecreëerd om de privacy van een computergebruiker binnen te dringen en lijkt zeer veel op het bedrieglijke programma Anti-Virus-1. Net zoals de meeste nep anti-spywaresoftware geeft Anti-Virus Number-1 misleidende en overdreven resultaten weer. Anti-Virus Number-1 installeert zichzelf meestal op een computersysteem zonder medeweten of toestemming van de gebruiker, d.m.v. het Trojaanse paard Vundo, virussen of valse software. Anti-Virus Number-1 geeft nep systeemwaarschuwingen of nep veiligheidswaarschuwingen weer om de computergebruiker bang te maken zodat hij de "volledige" versie aanschaft, om de potentiële en gerapporteerde problemen te verwijderen. De foutmeldingen geven aan: "VALSESSAGE HIER". Anti-Virus Number-1 veroorzaakt niet alleen het vertragen van het computersysteem, het stelt tevens uw privacy en gegevens bloot aan risico's. Het is niet gemakkelijk, maar het is enorm belangrijk om alle componenten van Anti-Virus Number-1 en alle malware en Trojaanse paarden waarmee Anti-Virus Number-1 gebundeld kan zijn geweest, zoals Zlob.Trojan, Trojan.Vundo en Trojan.Downloader, te verwijderen. Om Anti-Virus Number-1 effectief te verwijderen hebben wij een handleiding gecreëerd voor handmatige verwijdering om u van dienst te zijn. Maak voordat u Anti-Virus Number-1 verwijdert eerst een back-up van al uw gegevens.

Hoe te verwijderen Anti-Virus Number-1
Met infectie geassocieerde bestanden (Anti-Virus Number-1):
N1Two.exe
Anti_Viruses[1].exe
Anti-Virus.exe
N1Two.exe, 3[1].exe
N1i.exe, 2[1].exe
AV1Two.exe, Three[1].exe
3[1].exe
N1Two.exe
2[1].exe
N1i.exe
QWProtect.dll
n1.exe
install[1].exe
svchost.exe
Three[1].exe
AV1Two.exe
Anti-Virus Number-1.lnk
QWProtect.dll
AV1Two.exe
svchost.exe
N1Two.exe, 3[1].exe
N1i.exe
AV1Two.exe, Three[1].exe
%AllUsersProfile%\Start Menu\Programs\Anti-Virus Number-1
install[1].exe
n1.exe
N1i.exe, 2[1].exe
Dynamische Verzamelingen met Links voor het verwijderen (Anti-Virus Number-1):
QWProtect.dll
Af te sluiten processen (Anti-Virus Number-1):
N1i.exe, 2[1].exe
AV1Two.exe
N1Two.exe, 3[1].exe
AV1Two.exe, Three[1].exe
n1.exe
N1i.exe
install[1].exe
svchost.exe
Anti_Viruses[1].exe
Anti-Virus.exe
N1Two.exe, 3[1].exe
N1i.exe, 2[1].exe
AV1Two.exe, Three[1].exe
3[1].exe
N1Two.exe
2[1].exe
N1i.exe
n1.exe
install[1].exe
svchost.exe
Three[1].exe
AV1Two.exe
N1Two.exe
Verwijder waarden uit het register (Anti-Virus Number-1):
{CD30B357-F8F7-4AD1-BF68-04A219D21A69}
{0D1DBFEE-0C43-4223-8B3E-A56FB3C5C87D}
AppID\{0D1DBFEE-0C43-4223-8B3E-A56FB3C5C87D}
MICROSOFT\WINDOWS\CURRENTVERSION\RUN\N1.exe
Microsoft\Windows\CurrentVersion\Explorer\Browser Helper Objects\{6AB37108-7433-4a04-B49C-4AC3D971E102}
Microsoft\Windows\CurrentVersion\Explorer\Browser Helper Objects\{2182220D-AA70-4764-B4E6-1F5BBA322C9C}
Microsoft\Windows\CurrentVersion\Run\Drive
Microsoft\Windows\CurrentVersion\Explorer\MenuOrder\Start Menu2\Programs\Anti-Virus Number-1
N1\N1\{93963ACF-6617-4cae-BC2A-A37C0EAC1052}
N1\N1\{BFEDC213-CAD8-41bb-B660-89D6E673B53E}
AppID\{CDB65423-01F2-4caf-B56D-FF0590D26EC7}
{2182220D-AA70-4764-B4E6-1F5BBA322C9C}
{CDB65423-01F2-4CAF-B56D-FF0590D26EC7}
{27C9DD2C-9F0C-4CB8-B631-26B44DFCDEF5}
RUNNING PROGRAM\N1.exe
RUNNING PROGRAM\AV1Two.exe
Anti-Virus&Spyware_is1