Bedreiginsniveau
:

9
Type:
Kwaadaardige Anti-Spyware
Vaak infectie symptomen:
Installeert zichzelf zonder toestemming
Verbind naar het Internet zonder toestemming
Laat commerciële advertenties zien
Trage internetverbinding
Irritante pop-ups
Trage Computer
Besmettingsvideo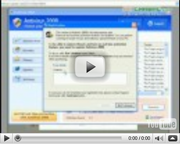 Internet Security 2010
Internet Security 2010, of InternetSecurity2010, InternetSecurity 2010, Internet Security2010, is een afschuwelijke en angstaanjagende bedrieglijke toepassing die wordt gebruikt om gebruikers ertoe over te halen om ze hun geld afhandig te maken. Internet Security 2010 behoort in feite tot een hele familie van bedriegers waartoe ook Advanced Virus Remover en AdvancedVirusRemover kunnen behoren. Ze beschikken allemaal over de zelfde eigenschappen, namelijk het gebruik maken van valse systeemberichten, om u ervan te overtuigen dat u de volledige versie dient aan te schaffen om uw computer te redden. Alles wat gerelateerd is aan Internet Security 2010 is oplichterij.
Internet Security 2010 dient onmiddellijk van uw systeem te worden verwijderd zodra het wordt ontdekt. Dit betekent dat op het moment dat u vermoedt dat het op uw machine draait, dat u het dient op te zoeken en het op de juiste manier dient te verwijderen. U kunt hiervoor kiezen tussen het handmatige of het automatische verwijderproces. Het handmatige verwijderproces is zeer gecompliceerd en het zal een enorme uitdaging te zijn op Internet Security 2010 op deze manier goed van uw machine te verwijderen. Het wordt dus aangeraden om gebruik te maken van een automatische verwijdermethode, waarbij een betrouwbaar programma zowel Internet Security 2010 kan detecteren als het voor u kan verwijderen.

Hoe te verwijderen Internet Security 2010
Met infectie geassocieerde bestanden (Internet Security 2010):
IS2010.exe
%UserProfile%\Local Settings\Application Data
%ProgramFiles%\InternetSecurity2010
%LocalAppData%
Internet Security 2010.lnk
ISff6_322.exe
ISfc9_152.exe
ISf6c_289.exe
ISf54_302.exe
ISf05_2204.exe
ISec4_179.exe
ISeb6_289.exe
ISdff_179.exe
ISdd0_302.exe
ISdb1_289.exe
ISda9_263.exe
ISd63_2164.exe
IScbe_2214.exe
ISca7_2214.exe
ISc89_2150.exe
ISc44_2211.exe
ISbd1_2194.exe
ISbbd_2121.exe
ISb09_2224.exe
ISaa8_2214.exe
ISa6f_2204.exe
ISa3b_2112.exe
ISa11_290.exe
IS97b_2214.exe
IS8eb_2164.exe
IS8e4_284.exe
IS8da_2211.exe
IS8d4_2075.exe
IS8ca_2154.exe
IS890_302.exe
IS870_2159.exe
IS830_2050.exe
IS823_302.exe
IS81f_2050.exe
IS80d_2228.exe
IS7c2_328.exe
IS77c_302.exe
IS765_2121.exe
IS760_302.exe
IS71f_2180.exe
IS71c_2121.exe
IS706_2204.exe
IS6ec_2075.exe
IS6c5_2211.exe
IS653_2211.exe
IS5fd_2116.exe
IS5d0_2114.exe
IS5ab_2129.exe
IS53e_2164.exe
IS519_2112.exe
IS484_302.exe
IS431_2229.exe
IS406_2214.exe
IS400_2214.exe
IS3e4_284.exe
IS3d1_179.exe
IS392_2164.exe
IS37d_2121.exe
IS27f_2150.exe
IS1bf_2211.exe
IS14f_2214.exe
IS10a_302.exe
IS0fa_2214.exe
IS0f9_195.exe
IS0df_2121.exe
IS063_2112.exe
IS015_2121.exe
InternetSecurity.exe
IS2010.exe
Af te sluiten processen (Internet Security 2010):
ISff6_322.exe
ISfc9_152.exe
ISf6c_289.exe
ISf54_302.exe
ISf05_2204.exe
ISec4_179.exe
ISeb6_289.exe
ISdff_179.exe
ISdd0_302.exe
ISdb1_289.exe
ISda9_263.exe
ISd63_2164.exe
IScbe_2214.exe
ISca7_2214.exe
ISc89_2150.exe
ISc44_2211.exe
ISbd1_2194.exe
ISbbd_2121.exe
ISb09_2224.exe
ISaa8_2214.exe
ISa6f_2204.exe
ISa3b_2112.exe
ISa11_290.exe
IS97b_2214.exe
IS8eb_2164.exe
IS8e4_284.exe
IS8da_2211.exe
IS8d4_2075.exe
IS8ca_2154.exe
IS890_302.exe
IS870_2159.exe
IS830_2050.exe
IS823_302.exe
IS81f_2050.exe
IS80d_2228.exe
IS7c2_328.exe
IS77c_302.exe
IS765_2121.exe
IS760_302.exe
IS71f_2180.exe
IS71c_2121.exe
IS706_2204.exe
IS6ec_2075.exe
IS6c5_2211.exe
IS653_2211.exe
IS5fd_2116.exe
IS5d0_2114.exe
IS5ab_2129.exe
IS53e_2164.exe
IS519_2112.exe
IS484_302.exe
IS431_2229.exe
IS406_2214.exe
IS400_2214.exe
IS3e4_284.exe
IS3d1_179.exe
IS392_2164.exe
IS37d_2121.exe
IS27f_2150.exe
IS1bf_2211.exe
IS14f_2214.exe
IS10a_302.exe
IS0fa_2214.exe
IS0f9_195.exe
IS0df_2121.exe
IS063_2112.exe
IS015_2121.exe
InternetSecurity.exe
IS2010.exe
IS2010.exe
Verwijder waarden uit het register (Internet Security 2010):
MicrosoftWindowsCurrentVersionRunInternet Security 2010
IS2010
Microsoft\Windows\CurrentVersion\Run\Internet Security 2010
HKEY_CURRENT_USER\SOFTWARE\MICROSOFT\WINDOWS\CURRENTVERSION\RUN\ Internet Security 2010
HKEY_CURRENT_USERSOFTWAREMICROSOFTWINDOWSCURRENTVERSIONRUN Internet Security 2010
RUNNING PROGRAM\IS2010.exe